New Home / Builder's Warranty Inspections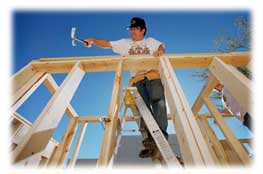 Oakland County continues to have the highest population growth levels in the country. As a result, home builders continue to scramble for more and more land and seem to be building homes at a record pace. Owning a home is the American Ideal, but building a home is the Dream of a Lifetime. Unfortunately, for some new homeowners it can become a nightmare.
As a result of extraordinary growth in the Oakland area over the last few decades, builders have grown to rely upon subcontractors who are continually looking for qualified labor. Most of these sub contractors are exceptional and well trained. However, with the record pace of building, it is possible to have workers who are tired, overworked or not as qualified as they should be. As a result, some new homeowners have found that these subcontractors (to name a few items) have forgotten to insulate portions of attics, have not installed electrical or plumbing components correctly, or have failed to finish their work such as not installing all the roof tiles needed for a roof. If they do not document these items or catch them before the end of their warranty, the homeowner, not the builder, is responsible for repairing these items either down the road when they sell their home and the buyers have an inspection performed.
Oftentimes, we hear from sellers or homeowners 3, 5 or even 10 years after a home has been built that they cannot believe that the builder forgot to install enough insulation, or adequate attic ventilation, or install electrical/plumbing correctly. As a result, these homeowners are faced with hundreds if not thousands of dollars in costs that could have been avoided with a thorough, detailed and comprehensive inspection
By working with Oakland Home Inspections, you can provide your builder with a thorough, detailed written summary of defects that need to be corrected while your home is still under warranty. It's a good idea to have an independent authority conduct your home inspection. That way you have the peace of mind knowing you have a complete and accurate account of your home's condition.
There are many local inspection companies who perform these types of inspections, but only a few are as certified, experienced, or professional as an Oakland Homes Inspector. Understanding that a new home can be overwhelming and sometimes fearful, our inspectors take extra time to ask you what issues you are concerned about. We encourage you to be present during the inspection and in some cases follow us so you can see what we see. Whether you follow us or not, we take time at the end of the inspection to walkthrough the home identifying issues. Additionally, Oakland Home Inspections will take the extra time to point out maintenance issues. Our inspections not only cover the basic items in a normal inspection, we spend extra time looking at systems and structural components to ensure potential issues caused by substandard workmanship are identified and corrected before they become an issue. Oakland Home Inspection inspectors are not only highly qualified in construction trades, building and zoning and real estate, we have performed thousands of builder warranty inspections and have an acute understanding of the process as well as typical mistakes that are made over and over by some subcontractors.
Why not REQUEST AN INSPECTION today and have the PEACE OF MIND you always wanted for a fraction of replacing/repairing/installing items in the future?

Michael B. Saari
Oakland Home Inspections
(248) 787-4366
www.OaklandHI.com