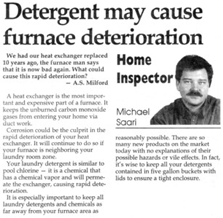 Why a Maintenance Home Inspection? Can you really afford to have a home that is unsafe for you and your family? For a fraction of the cost of what you purchased your home, you can have your home checked out and repaired before damaged or unsafe conditions worsen. Why risk it???
Our experienced, fully trained and certified inspectors not only know what issues to look for but can advise you on important maintenance and care items that will help you maintain your home for years to come. Moreover, this will give you a complete "honey to-do" list without all the guessing and uncertainty that goes into most home improvement projects. For more information, please view our What We Inspect page.
Reasons to have a Maintenance Home Inspection:
Find those small problems before they become big problems.
Have a detailed and comprehensive report detailing the current condition of your home.
Save money! By doing minor repairs now. It will save you from the big repair in the future.
No surprises when you sell. When you do sell your home in the future there won't be any unexpected surprises.
You may be unable or unwilling to examine areas of your home on your own.

Michael B. Saari
Oakland Home Inspections
(248) 787-4366
www.OaklandHI.com