"The Home Buyers Best Friend"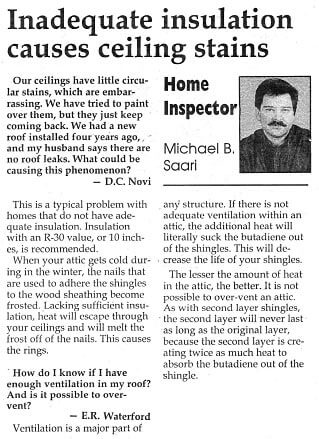 Prospective Home Buyers should take nothing for granted when purchasing a home, or choosing an inspector:
I provide you with personal assurance; you will receive the highest level Home Inspection obtainable!
OAKLAND INSPECTIONS HAS INSPECTED THE HOMES OF THE FOLLOWING CELEBRITIES:
Michelle Metcalf – 99.5 Radio.
Rip Hamilton – Pistons Basketball Player.
Glen Haege – The Handyman.
Eric Haege – Son of the respected Glen Haege.
Marti Martin – Producer and Reporter of the Glen Haege Show.
Sam Dweller – Red Wings financial officer & consultant.
Wallie Niemella – Inventor of the Boss Snow Plow.
Lisa Way- 89X Radio
Availability
Usually the Home Buyer is limited to 5 to 10 days to get a Home Inspection. Oakland Home Inspections prides itself on its availability with a 12 hour notice. Our Service is also available 7 days a week. Just let us know if you prefer an afternoon or morning appointment.
The Respected Oakland Report
We know our Inspection report is the very finest available because it identifies even the smallest of concerns with intricate detail along with observations of the Inspector. in an easy to understand and highly respected report. Included with each report is "The Home Maintenance Schedule."
Clients are strongly encouraged to walk through the Inspection with the Home Inspector.
About Michael B. Saari
Whether you are buying or selling a home you should always incorporate the services of a home inspector that is certified by the National Association of Certified Home Inspectors (NACHI). That is why I have worked hard to become a member of NACHI and I promise to provide you with excellent service. As a NACHI member I:
Pass NACHI's Online Inspector Examination every year. This exam is an industry standard required by NACHI and some state licensing boards.
Adhere to the industry's largest, most comprehensive Standards of Practice,
Abide by NACHI's Code of Ethics.
Follow a strict continuing education policy that requires, that I receive 24 hours of continuing education each year.
Have completed NACHI's ethics "obstacle course" which ensures that I am aware of my ethical duties as a home inspector.
Have passed NACHI's Standards of Practice.
Have signed and submitted a legal affidavit contract that I will continue to adhere to all NACHI standards, ethics and education requirements.
Maintain a continuing education log that is verified by NACHI.
Submit a portion of my inspection reports to NACHI's report review board for outside evaluation.
Am required to successfully complete NACHI's comprehensive Standards of Practice course and examination, Roofing course and examination, Structural course and examination and
Electrical course and examination.
Attend at least one chapter meeting or educational seminar annually.
Have access to the Inspector's Quarterly to keep up-to-date on all the latest issues in the home inspection industry & standards.
Have access to a learning tools such as inspection tips and technique illustrations, a library of home inspection books and videos, the industry's largest message board, NACHI's "what's new" publication of recent inspection news, Dear NACHI,( a detailed advice column), and the NACHI University.
Credentials
State of Michigan Licensed Builder # 2102183305
(NACHI) Certified Home Inspector: # 1040506991
HUD / FHA Certified Inspector ID #P1352
Certified in Heating, Electrical, Plumbing, Structures, Concrete, Masonry, Roofing, Septic Systems and Environmental.
Certified Well & Septic Inspector: # P1077 (M.S.U.) Michigan State University.
Prior Home Inspection Columnist writer with the Oakland Press Newspaper! (As the Home Inspector)
Member of US Chamber of Commerce.
Member of the Better Business Bureau with an A-Plus rating.
MSHDA & HUD 203-K Certified